Welcome to Blue Steens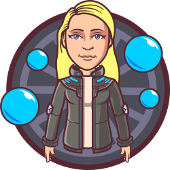 This is Chris typing here. If you keep going, you're about to enter Blue Steens' world. Blue Steens has been a good few things since its inception in 2015. Somehow it has eventually become my online alter-ego and home for some of my thoughts.
Life is a journey
I am a life-long learner. Gaining and sharing knowledge is what makes my world go round. I used to be a biomedical research scientist. So, I enjoy experimenting and making sense of numbers & facts. Eventually, I decided to take finance and accounting more seriously. This opened a completely new chapter in my life. All the while I keep an eye on the world of life sciences as well as connected technology areas like blockchain and artificial intelligence.
This blog
Writing helps me think and structure information. The purpose of this blog is mainly to share personal observations, insights and opinions with the reader. I focus on STEM* disciplines, in particular biomedicine and pharmaceutics. Don't take anything on here as bulletproof advice or absolute truth. I simply discuss topics that interest me personally. However, I am not necessarily an expert in these.
Even though I sometimes write about service providers, commercial products or specific equities, such mentions are neither endorsements nor recommendations to buy or sell.
* science, technology, engineering, mathematics
If you fancy a chat
Find my social media links on the website.